Crest® + Oral-B® OrthoEssentials Program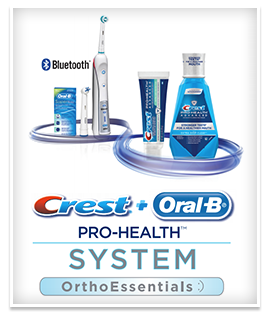 Taking care of your oral health is a whole different story when you've got braces. That's why Crest and Oral-B have teamed up with orthodontists nationwide to create OrthoEssentials, a program that can help patients with braces stay on track with keeping a clean and healthy mouth. With the help of OrthoEssentials, patients can steer clear of common problems like gingivitis, tartar, and demineralization, which can result in additional time and expense—and get the most beautiful and healthy smile possible.
OrthoEssentials puts together everything a kid (or adult) with braces needs in one convenient kit. It combines the PRO-HEALTH® SYSTEM—an ideal collection of oral care products for a someone with braces—with simple educational tools that show patients what their goals are, how easy it is to achieve them, and how to keep tabs on their progress along the way
Many participating offices include OrthoEssentials in the cost of treatment. This is a great value because your package includes:

Oral-B Professional Care SmartSeries 5000 Electric Toothbrush with Oral-B Ortho brush head, Oral-B Power Tip® brush head, and SmartGuide® Oral-B electric toothbrushes are lightweight and have a built-in timer to help users brush for the recommended two minutes. The Oral-B Ortho Electric brush head is specifically designed to clean around brackets and fits on all Oral-B oscillating electric brush models.
Oral-B Superfloss®—with a stiff end threader that lets you easily thread the floss under your wires.
Crest PRO-HEALTH Clinical Gum Protection Toothpaste — with stabilized stannous fluoride, this protects against plaque, gingivitis, cavities, and sensitivity.
Crest PRO-HEALTH Complete Rinse—with anticavity fluoride protection, this rebuilds enamel to help prevent cavities.